Art Collection at the Arlington Main St. Location
The walls of Worthington National Bank's Arlington location are decorated with works of celebrated Texas artists, dating from the 1940s to present day. A mural, titled Gathering Pecans, welcomes visitors as they enter the bank. Otis Dozier, a professor at SMU and a member of a nationally recognized group of artists known as "The Dallas 9," was commissioned to do this painting as part of the Work Progress Administration's Federal Art Project. The depiction of a family in a grove of pecan trees, illustrates Arlington's reliance on the pecan industry during the 1930s and 1940s.
The Arlington collection includes several additional paintings by Dozier, including Rodeo Cowboy and Sacred Bulls. The paintings differ from Gathering Pecans, but each piece has a distinct southwestern theme, and their style reflects an abstract behavior. The collection is rounded out by another well-known Texas impressionist, Greg McGinnis. His landscape pieces depict a keen combination of nature, flowers and light.
The walls at our Arlington Main Street location are also home to many of the original blue prints used when the building was built in 1939. These blue prints can be found throughout the building on the main floor and also in the basement.

Gathering Pecans
Otis Dozier (Am. 1904-1987)
1941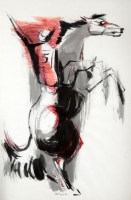 Rodeo Cowboy
Otis Dozier (Am. 1904-1987)
1960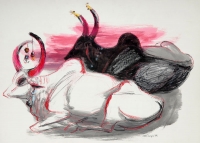 Otis Dozier (Am. 1904-1987)
1959
Otis Dozier (Am. 1904-1987)
1987
Lithograph, ed. 30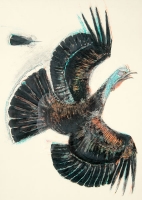 Otis Dozier (Am. 1904-1987)
1987
Lithograph, ed. 30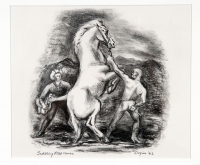 Otis Dozier (Am. 1904-1987)
1942
Lithograph, ed. 30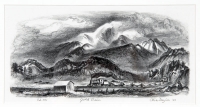 Otis Dozier (Am. 1904-1987)
1943
Lithograph, ed. 50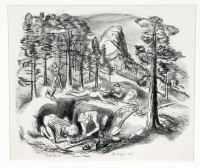 Otis Dozier (Am. 1904-1987)
1944
Lithograph, ed. 10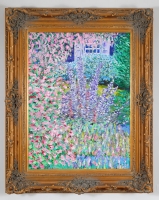 Michael Gregory McGinnis
1994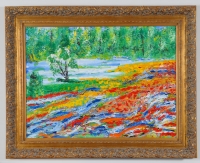 Michael Gregory McGinnis
1994